About Ma Fischer's Diner
My father, George Panos, immigrated to Canada in 1960 with a suitcase and $100 to his name. George met my mother, Sofia, in 1967 and they were married by 1968. My brother Joe and I came along shortly after. Soon, we moved to Chicago where my father worked as a butcher and a waiter. He longed for more. With the addition of my little sister Patty, my father decided it was now time to live out his American Dream. He found it in Milwaukee at 2214 N. Farwell Avenue. Jackie Fischer, the original "Ma" and owner of Fischer's Sandwich since 1932, sold her business to my father in the spring of 1975. Six months later, my mother, siblings, and I moved into Ma Fischer's with our father. Yes, moved in. The restaurant had two booths, 16 stools, and a residence upstairs. Our family lived and breathed Ma Fischer's 24 hours a day.
Our staff included two waitresses, my mother who acted as our hostess, and my father who took on the role of chef and short order cook. My parents dedicated every waking hour to Ma's. I mean that quite literally, as we have always been a 24/7 kind of place. We moved from the upstairs apartment into a traditional home in the early 80's. Even still, Ma Fischer's is always our home away from home. My father felt it was important to have his family run the business, and I agreed.
Much to our success, the restaurant was remodeled four times over the last 40 years. In the early 80's we extended to 11 booths, six tables, and a counter. We later added an atrium that allowed for 12 more tables. In 1989, we closed for 3 months, gutted the restaurant, and rebuilt to the size we are now. In 2002 our neon sign started an electrical fire, leaving us forced to close for eight months to rebuild. And, here we are today. Who knows what will happen next?
Our menu has maintained its simplicity over the years and we have always tried to satisfy all palettes with a variety of choices at any hour of the day. We have been fortunate to serve of a diverse crowd of customers: business folks, families, construction workers, retirees, police, doctors, nurses, teachers, artists, students, the Brewers, the Bucks… the list goes on and on!
We keep an article from The Milwaukee Journal written in 1979 hung over our coat rack. I think longtime Ma's customer Buddy VanAllen said it best, "It's a no-fuss place that you can put a textbook on the counter, read and eat dinner." We've been upholding that standard for over 85 years now and hope to continue doing so for another 85. Thank you for your patronage, and "I'll meet you at Ma Fischer's."
– Peter Panos, Owner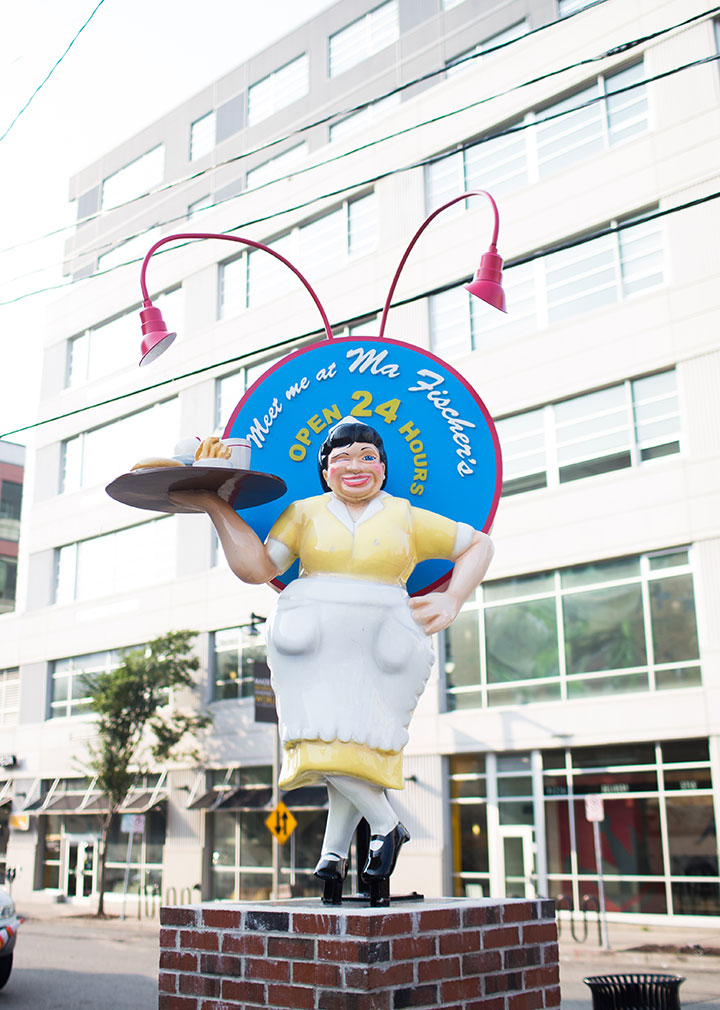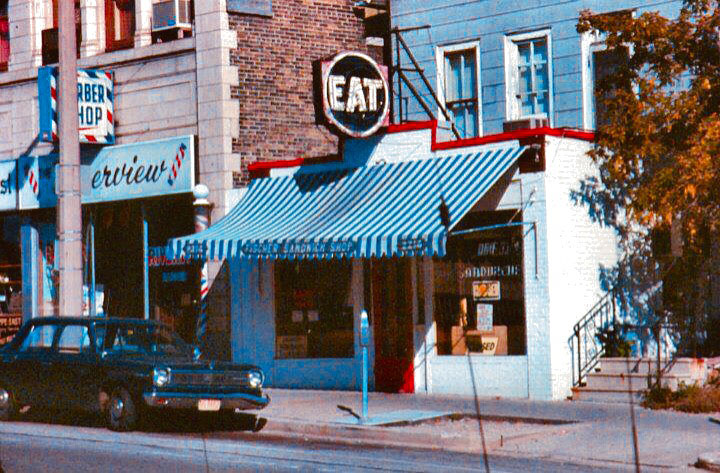 Ma Fischer's in 1976